The 1000/850 Vending Range can accommodate mst Food and Beverage combinations. Each machine can be fitted with custom inner vending cassing to allow the desired product range.
TVL Ltd. are Ireland's main Wurlitzer Vending Machine suppliers. If you would like a product demonstration or evaluation of your vending needs then please call our Sales Team on 1890 929 140.
Power Consumption:
With cooling unit max. 590 watts
Without cooling unit 70 watts
The adjustable refrigerating unit can be set for snacks temperature or
down to food standards. Both temperature levels and VarioTemp are
possible from the same cooling unit Both models are also available
without cooling unit for vending of non food products.

Features:
Progammable microproceesor control unit(IVC2) with data storage, test and service programs
Prepared for coin systems with change.MDB standard. Executive standard(from end of May)
Connection for cashless payment systems
Slide out assembly with control unit and coin system for easy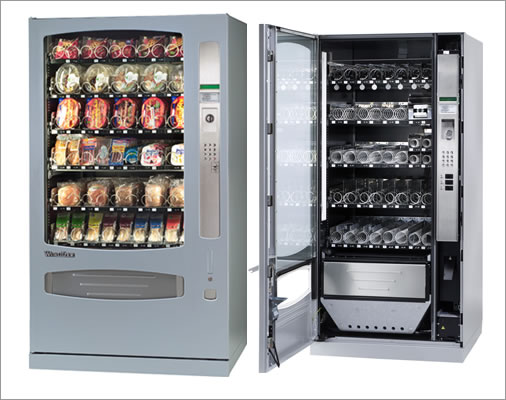 maintenance.
Illuminated alphanumeric display in two lines.
Food cooling unit
Internal thermometer with visible digital temperature display
Power saving mode with programmable low temp. Level
Time controlled, interruptible illumination
Panel delivery flap, trays and spirals made of stainless steel.
Prepared for VarioTemp differant temperature zones operation.
Steel cabinet with reinforced foamed isolation.
Standard Color: White.
Cooling Unit:
Sealed system with R 134A refrigerant(free of CFC's)
Adj temperature range from 3°C up to ambient temperature
Maximum ambient temperature 32°C
Vario Temp differant temperature zones operation
Cooling area down to 3°C
Temperature cooling area adjustable up to ambient temperature
Two sensors
Double temperature display
Extras:
Smart Waiter elevator system. Security change cup
Special module for cans and PET Bottles Lockable cash box
Variotemp Safety lock
Heating Door slit cover
Duomat operation Illuminated advertising top
VIDTS-IR interface Shortcut push buttons
Differant payment systems Promotion rail
Receipt printer Promotion buttons
Vend light gate Illuminated delivery box
Safety glass
Security coin insertion
Tray insert for tube products
Top loader kit for small products
Special tray for sandwiches
Heavy weight trays for 45 or 80kg carrying capacity
Insert for handling through narrow( 73cm) door posts
Special RAL colours.